How to Speed-Clean Your Bathrooms
The worst part of cleaning your house is doing the bathrooms. It sucks. But it's a necessary evil so here's the best way to speed clean them.
If you follow this guide, you should be able to knock-off all your bathrooms in about 20 minutes (provided you do this regularly and don't let them get too grimy).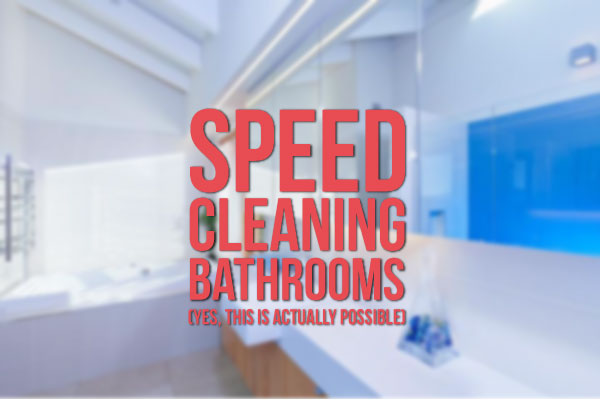 First off, you'll need your arsenal of cleaning tools:
microfiber cloths or paper towels (one for mirrors, one for each toilet, one for each sink and a few more for showers and tubs)
a mirror cleaner (Windex or, believe it or not, dish soap diluted in water)
disinfecting spray
toilet cleaning solution
toilet brush
empty container for dirty cloths
The first thing you'll want to do is clear your counters and sinks of all items. Now, spray-down your mirror and wipe it clean. If you want streak-free mirrors, use a glass and mirror microfiber cloth. Obviously, you can reuse this cloth on all the mirrors.
Time to move on to the sink, toilet and tub/shower. Spray them down with your disinfecting cleaner. You can usually find non-toxic disinfecting cleaners - they're just as good and aren't dangerous to you and your family.
Grab your toilet cleaning solution and brush and do a quick clean of your toilet. Now, go do these steps in all your bathrooms then come back to the first one.
Using your microfiber cloths or paper towels, wipe the sink. Then, wipe the toilet. Finally, wipe-down the tub/shower. To avoid cross-contamination, you'll obviously want to use separate microfiber cloths or paper towels on each item.
Throw all your dirty cloths in your container and move on to the next bathroom, repeating the wipe-down ritual. Voila! You've got spotless, disinfected bathrooms and you didn't waste your afternoon to get them.