Five On-Demand Apps Every Canadian Should Know About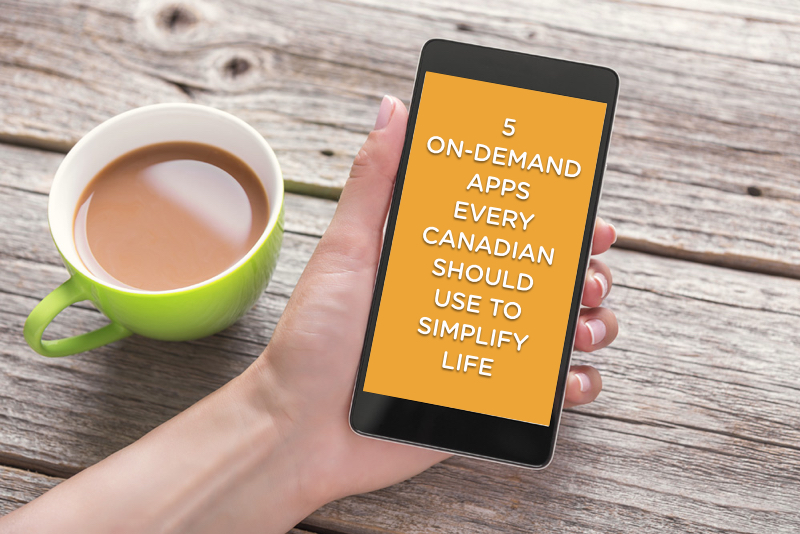 Whether it's booking a house cleaning online, getting a babysitter from your computer, ordering a taxi from your smartphone, or renting-out your neighbour's home from your tablet, on-demand apps are everywhere and they can make your life really easy. With so many apps out there, it can be tough to know which ones are actually worth your time and money and which ones are just fads. To help you out, the Mopify Team has compiled our five favourite on-demand apps servicing Toronto and Ottawa.
Airbnb
While everyone has probably heard of Airbnb by now, a lot of people have yet to actually try it. The house-sharing app is a great way to make new friends, visit new neighbourhoods, and save money while travelling to a new city.
The app works by having people rent out their bedrooms or entire homes to travellers, with all communication and payments being done through the platform. With more than 2,000,000 listings in 34,000 cities and 191 countries, you can rest assured that Airbnb will have something to meet your needs.
Uber
Another well-known app, Uber is must-have for anyone who lives in a major city like Ottawa or Toronto. Cheaper, quicker, and more efficient than most other taxi services, Uber has disrupted the ride-sharing industry and has become one of the most popular apps in the world
It works by essentially turning personal vehicles into taxis, with the app acting as the mode of communication, payment method, and the navigation system between the driver and customer.
Now available in over 66 countries and 507 cities worldwide, Uber is also a great app to have while travelling, as it is safe, reliable, and provides a price estimate beforehand.
SNOWMOWR
While our country may have many perks, lots of snow isn't one and nothing is worse than having to shovel your driveway before you head to work in the morning. Thankfully, an Ottawa-based app is looking to ease the burden and plow your driveway for you.
SNOWMOWR, an on-demand snowplow service, makes ordering a snowplow simple .The app handles all scheduling, communications, and payments, saving customers from having to mail in cheques or take out cash to give to their snow plow drivers every week. Plus, since their app tracks their drivers, you can know exactly when your driveway has been cleared.
Datenight
Finding a suitable babysitter can be a painstakingly long process. Are they trustworthy? Will they be reliable? Will my kids like them? So many questions with so little time! Thankfully, an on-demand babysitter app is here to save the day.
Launched in Toronto in 2014, DateNight connects busy parents with experienced, local babysitters in their neighbourhood, allowing them to order their services from the palm of your hand. Quick and reliable, the app even allows payments to be via credit card, saving parents the last minute dash to the bank when they get home.
Go Fetch
While you may enjoy walking your dog, life can get busy and some days you may need a hand. GoFetch is Canada's first dog walking app that connects dog owners with dog walkers in their city, allowing your four-legged friends to get some fresh air without taking anytime from your day.
The app makes it easy to find the perfect walker, as it allows you to choose from one-time walks to scheduled, daily appointments, with all walkers being insured and having gone through background checks. Plus, with billing being made automatically via credit card, dog owners don't need to worry about forgetting to pay their walkers.