Six Great Ways to Wrap a Gift Card this Holiday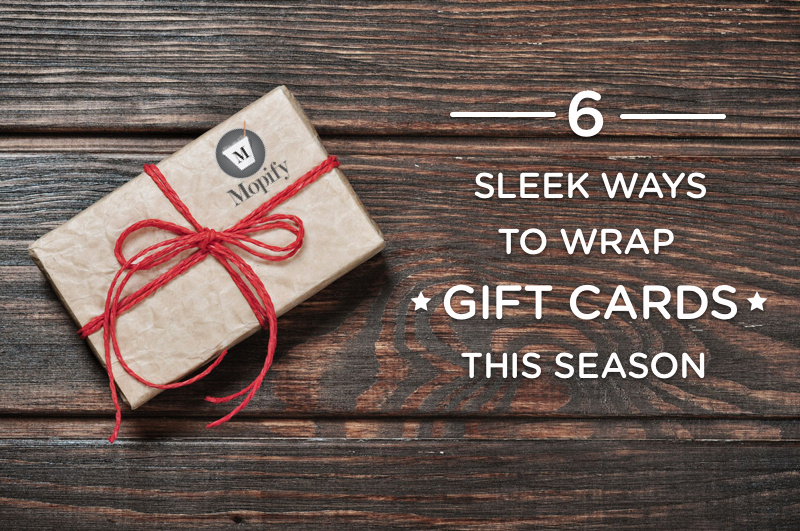 Gift cards are awesome. They're easy to buy, never sell out, don't come in sizes, and pretty much everyone loves to get one. Talk about a perfect gift!
However, sometimes gift cards can be seen as a lazy or uncreative present since they are just a plastic card. Thus, in order to better prepare you for this upcoming holiday season, here are six sleek ways to beautifully disguise a gift card.
Use a Balloon
Up, Up, and Away! By hiding your gift card in a dark balloon, your present will stand high above the rest. Just roll up a paper gift certificate or slide a plastic gift card into a balloon before blowing up with air or helium.
To be extra creative, try writing on the outside of the balloon while also covering it with glitter. Check out some detailed instructions here.
Create a Scavenger Hunt
Turn a gift into a scavenger hunt by placing clues around your house leading to the gift card. Not only doing this get the family playing together, it also makes them even more excited for their final present...
Just think how much more exciting chocolate is during a Easter hunt than on every other day of the year! For some template Christmas riddles, check out this link.
Make it Snow!
If you're feeling a bit artistic and really want to get into the season, why not hide your gift card in a homemade snow globe?
Cute, crafty, and creative, a snow globe is an unique way to wrap a gift and it's actually a lot easier than it seems. All you need is a mason jar, hot glue gun, water, and some glitter! You can read the full set of instructions here.
Hide Inside a Candy Jar
If your loved one is more into sweets than arts and crafts, try hiding a gift card in a jar of candy. Simply buy a mason jar, fill it full of chocolate and candy, and then slip the gift card into it.
This way, they get their favourite goodies and a sweet gift card! Check out these instructions for a totally awesome DIY jar that separate the candy and the plastic.
Tuck Into a Picture Frame
Find the best photo of you and your loved one, slip it into a nice photo frame, and then complement it with a gift card! Who doesn't love a cute framed photo for the office?
For those that are really crafty, you can even build the frame yourself with a few simple crafts! Check out some instructions here.
Create a Christmas Decoration
Give the gift that keeps on giving by creating a DIY Christmas tree ornament that shelves a gift card.
Using some fabric and ribbons, you can easily create a cute little ornament that can either be used each year on the tree or re-gifted for other gift cards down the road. Plus, the ornament can either be hidden in the tree as a surprise or wrapped up as a normal present, making the presentation of the gift even better! Check out this video for instructions.