Holiday House Cleaning Guide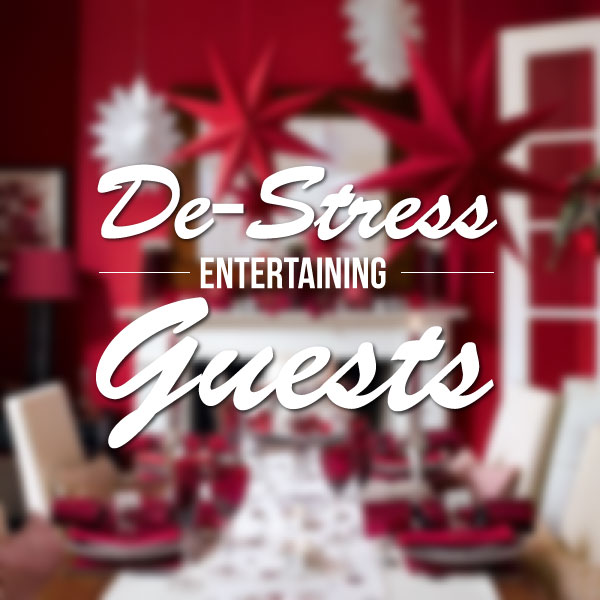 The holidays are supposed to be relaxing, spending time with family and friends. But often, if you're hosting many of the get-togethers, the holidays are downright stressful.
You've constantly got to stay on top of your house cleaning while at the same time cook and entertain. Then rinse, repeat. Before you know it, the holidays are over and you're less rested than you were going in.
This year, we'll try to help you de-stress your holidays by giving you some tips for prepping your house to avoid the day-of cleaning chaos.
Get on It
There is a catch though you've got to start now. Procrastinating on your house cleaning will only lead to higher levels of stress. If you do one or two steps from this guide daily leading up to the holidays, you'll only have a few minor touch-ups to accomplish on the days that your guests come by.
Step One: Make a List
Walk through your house from a guest's perspective. Your guests are only going to be in the common areas (kitchen, living room, main bathroom, etc.). Don't stress over areas they aren't going to see.
Now, make a list of things you observe that you may be accustomed to but houseguests might notice. This may be things like plants with dead leaves, a loose baseboard or cobwebs on a light fixture.
Here's the best part delegate! Assign tasks to your significant other and/or kids. Getting your entire household to help carry the load is great.
Step Two: Windows & Baseboards
Get the windows and baseboards out of the way since they aren't going to get dirty again before guests arrive. Wash the windows then take off the screens. You can vacuum them or, if they're especially dirty, take some water and soap to them. Just make sure they're dry before you put them back up.
This also is a good time to take-down any window curtains and run them through the wash.
Now, move on to your baseboards. Take a damp cloth or mop and give them a good scrub.
Step Three: Bathrooms & Bedrooms
It's time for a deep-clean in your bathrooms. Start with the medicine cabinet. Remove all the contents and clean the shelving and interior. Then, move on to the rest of the bathroom, giving it the scrub-down of its life. Don't forget to take down your shower curtains and run them through the wash, if they need it.
Now, move on to the bedrooms. Get rid of or store any clutter. Run your linens through the wash, vacuum and wipe the floors and clean off any surfaces.
Step Four: The Closets
Your guests are going to hang up their jackets and store their boots/shoes when they get to your place. This means they'll be seeing a lot of your closets. Are they clean?
Start by pulling everything out of your coat closet and looking at the floor. Give it a vacuum or wipe if it needs it. Also, you may want to move some of your jackets elsewhere to free-up more space and also add additional coat hangers for your guests.
Look around the room where the closet is. Are there any throw rugs there that need to be cleaned? If so, do it and then think about putting them aside so they're spic and span when guests arrive.
As an added touch, think about polishing your doorknobs and adding decorations to the entry like wreaths or bows.
Step Five: The Kitchen
The kitchen is where all the action happens! It becomes the central hub whenever you're entertaining. Give it a deep-clean now so you only have to do minor touch-ups before guests arrive.
Start by cleaning your stove top, hood fan and interior of oven (if it needs it). Move on to the refrigerator, cleaning-out the inside and getting rid of unneeded items. You're going to need extra space for all the party foods, so keep that in mind.
From there, wipe down all the appliances in the kitchen and the cabinets too. Finish off by cleaning the sinks and all related hardware.
Step Six: Day-of Checklist
Congratulations, your house is almost ready for guests. Here's your day-of checklist to make sure everything's perfect.
Make sure your trash cans are cleared, clean and have fresh bags in them.
Quickly check your bathrooms and wipe-down any dirty areas with household cleaner and paper towels or rags.
Quickly wipe mirrors with vinegar/water solution and newspapers (they don't streak).
Put toilet bowl cleaner in the toilets, leave it for 20 minutes them come back and brush.
Put out fresh hand soap and fresh hand towels.
Give your kitchen floor a quick once-over with a damp mop.
Vacuum all your common areas and use a dry-mop on hardwood floors.
Now you're ready to entertain! Enjoy the holidays.