Six Things to Consider Before Your House Cleaner Arrives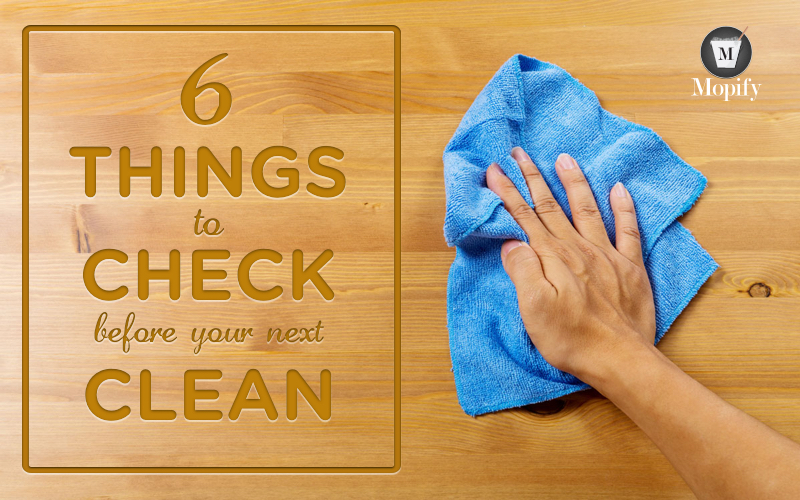 So, you're booking your first house cleaning appointment and must be excited to see your house restored to its former sparkling glory! But did you know there's a couple things you can do proactively to make sure your house cleaning service goes as smoothly as possible?
We've outlined a quick checklist of things you should consider attending to before the big cleaning day.
1. Ask Questions
Read up on your company's policies! Most companies should have an FAQ page covering the questions that come up frequently.
This could include details about what's included in a standard clean, satisfaction guarantees, insurance policy, or any referral programs available to you.
Before you book, make sure all of your questions are answered and you feel comfortable with the level of communication you've received back from the company.
2. Choose Consistent Schedule
If you're booking weekly cleaning, bi-weekly cleaning, or monthly cleaning, let your company know which days and times work best for you to ensure you're happy with the arrangement they set you up with. They will do their best to match you up with a cleaner who has the same availability.
If you decide to go with Mopify for your house cleaning, we ask that you enter these preferences online during the sign-up phase. You can also adjust them down the road if things change (and they often do - especially with kids and busy schedules)!
3. Write Notes
Think about what you would want your cleaner to know before they arrive. If you're providing supplies, where are they located? Do you have a tricky vacuum or hidden central vac outlets? Do you have any pets, and what are their names?
All of this information can be very helpful for an incoming cleaner, and can ensure the appointment goes smoothly.
If you're using Mopify, we have a section on your customer dashboard online where you can write notes to your cleaner directly! These can be updated at any point, even the morning before the appointment.
4. Prevent Lockouts
If you aren't going to be home for your appointments, decide how you'd like your cleaner to access the home. Do you have keyless entry to your home? Can the keys be left in a designated area at the property, or with concierge if applicable? Is entry available via the garage?
We recommend a lockbox if you don't have the above options available.
5. Prepare your Pets
If you have any furry friends, will they be home during the cleaning appointments? If so, are they the curious type, or will they mind their own business? As cute as they may be, they could influence your cleaning - in a negative way!
It may be best to have your pets hangout in a different area for the cleaning. Here at Mopify, we will ensure to match you with someone who loves pets if you have any - however, if they're distracting it may be best to make arrangements for them.
6. Declutter
Taking 30 minutes before your cleaner arrives to "pick-up" anything that may be out of place can be a huge help! Your cleaners won't know where these items belong - and they've come to clean, rather than to organize.
Ensuring papers, toys, clothes, and clutter are accounted for will ensure the cleaner can focus on the things you value more (and likely hate doing!) This includes dusting, floors, baseboards and scrubbing toilets of course!